Demographic and Socioeconomic Changes Induced by the COVID-19 Pandemic in Bangladesh: Dynamics and challenges of new circumstances
BRAC, UN Women, and New York University's Center on International Cooperation (CIC) recently concluded a study of the demographic and socioeconomic changes induced by the unprecedented reverse (urban-to-rural) migration that took place in Bangladesh following the COVID-19 lockdown. Findings from the study reveal the dire circumstances facing returnee migrants, their families, and their rural communities, including an alarmingly high incidence of child marriages among surveyed households, an explosion in household debt, and the drying up of income opportunities.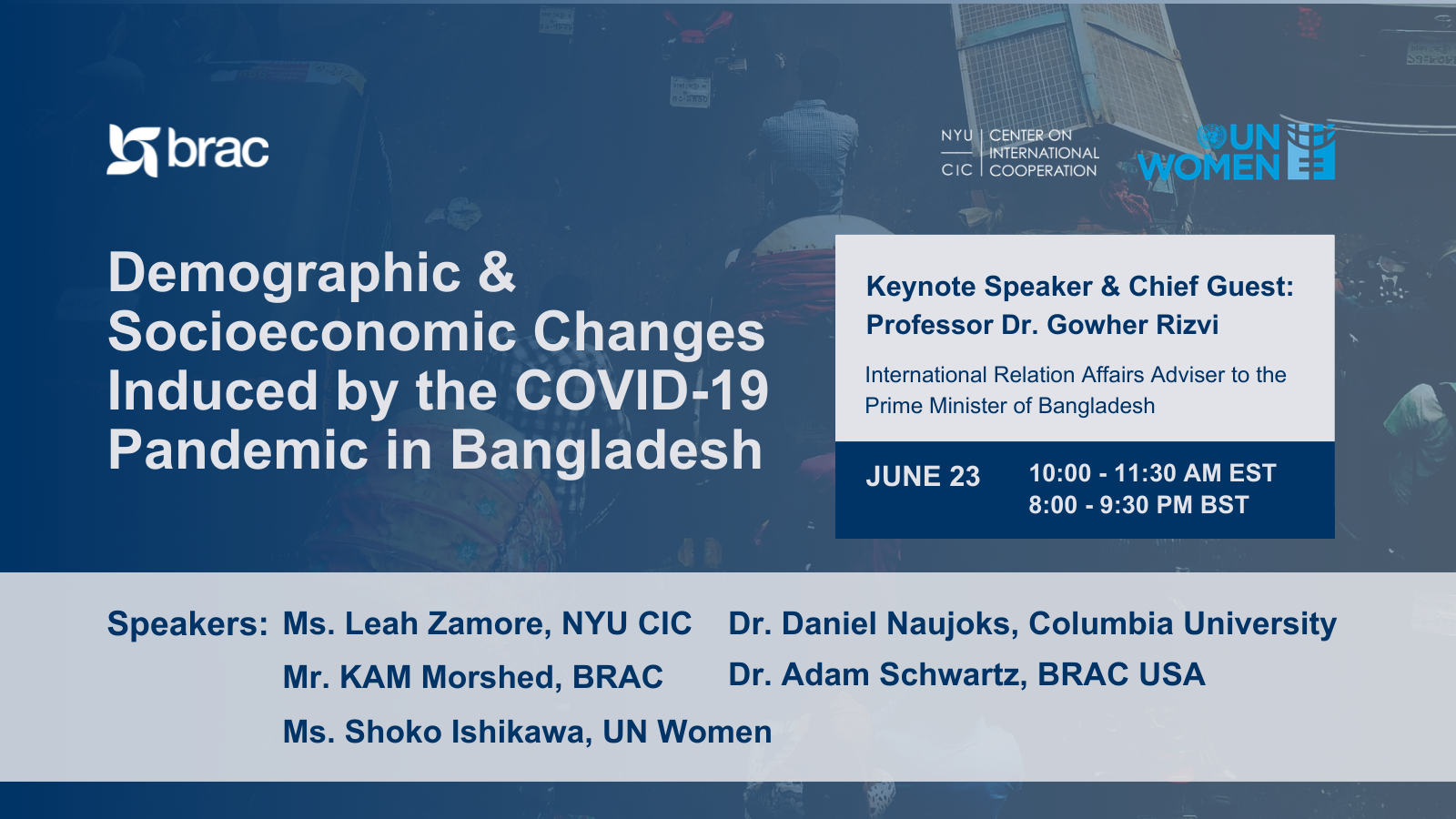 Wednesday, June 23, 2021
10:00 AM – 11:30 AM ET | 8:00 - 9:30 PM BST (Dhaka Time)
Watch the dialogue
This virtual dialogue will provide an opportunity for the research partners to discuss these and other findings, and identify solutions, with regional and migration experts. Additionally, a keynote address will be delivered by Professor Dr. Gowher Rizvi, International Relation Affairs Adviser to the Prime Minister of Bangladesh. Event attendees will have an opportunity to engage in this important discussion and ask questions of the panelists.
AGENDA
Welcome Address
Ms. Leah Zamore, Humanitarian Crises Program Lead, CIC – NYU (moderator)
Presentation of Research Findings
Mr. KAM Morshed, Senior Director, BRAC
Panel Discussion
Ms. Shoko Ishikawa, Country Representative, UN Women Bangladesh
Dr. Daniel Naujoks, Interim Director, International Organization and UN Studies Specialization at Columbia University's School of International and Public Affairs
Dr. Adam Schwartz, Director of Health, BRAC USA
Keynote Address & Chief Guest
Professor Dr. Gowher Rizvi, International Relation Affairs Adviser to the Prime Minister of Bangladesh
Audience Q&A
Summary of Policy Dialogue & Future Directions
Concluding Remarks